10 Exterior Painting Color Trends for 2020
If you're considering an upgrade to the exterior of your home, a new paint job is a great place to start. There's no need to replace all the siding or choose an entirely new exterior surface for your home when the one that you have is in good shape. A simple coat of paint can go a long way in giving your home an update that will increase your curb appeal, improve your own love of your home, and even add to the property value.
How to Pick Your Exterior Paint Colours?
Whether you're getting ready to sell your home or you're just looking to make some improvements, one of the biggest factors in the outcome of your exterior painting project is the color that you choose. The colors that work on interiors don't always work on exteriors, and vice versa. It's important for you to know what you should (and shouldn't) be doing with exterior paint colors before you choose one and start painting away.
Blue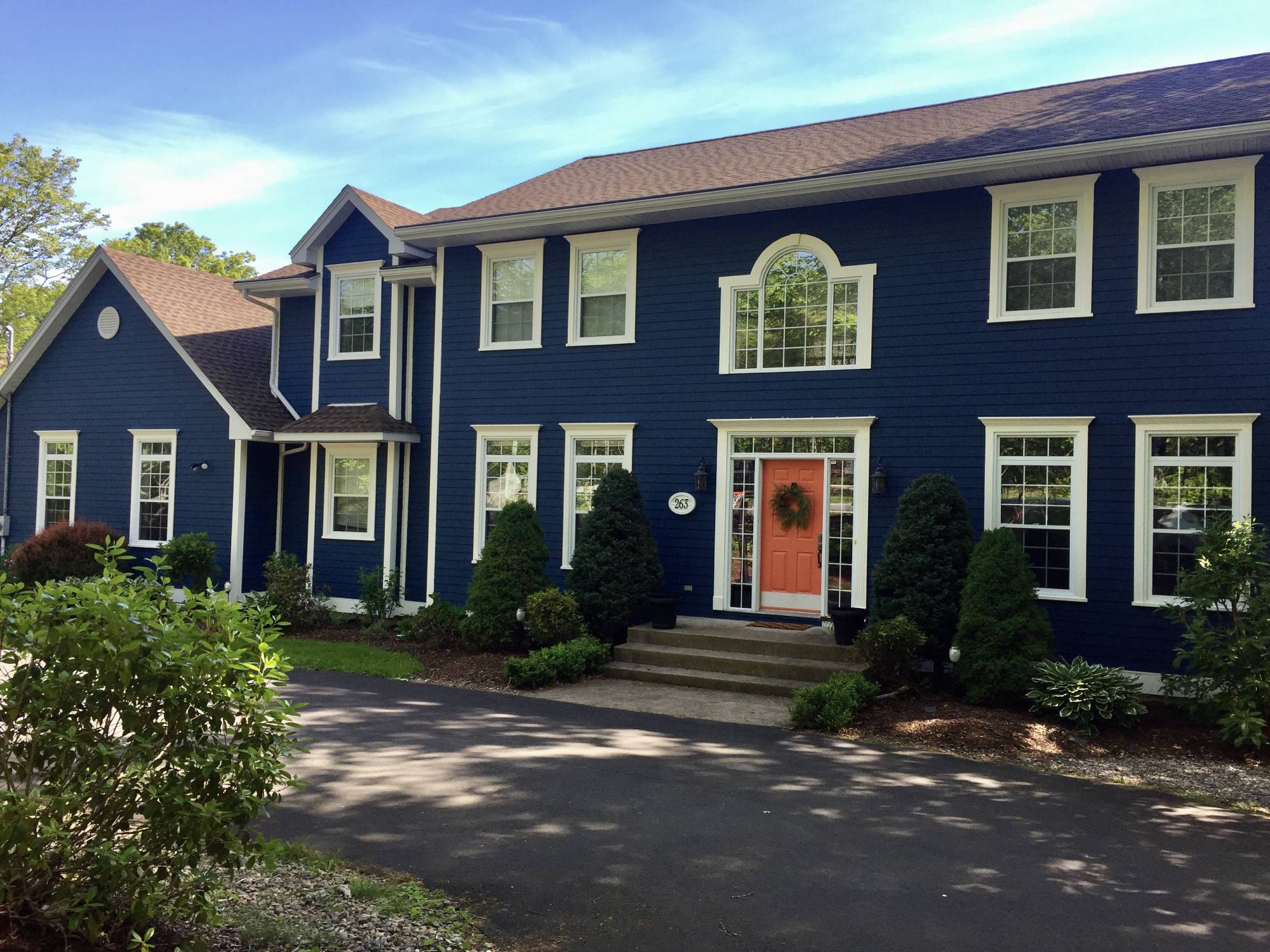 Blue has always been a popular exterior color. However, in decades past, it was always a quiet, paler, unassuming blue that was used. Today, there are a number of bold and unique shades of blue coming to the market, including those like sea blue, which offers a stylish coastal feel. There are other crisp blues that can create a bold statement or sky-inspired blues that can create a serene backdrop right on the exterior of your home.
Black
In modern design, black exteriors are gaining in popularity. Although right now, they're primarily limited to the most designer homes and styles, there are more everyday homes that are taking on black exteriors or black trim accents as a way to make a bold statement. This color offers a modern, sleek finish and can be so versatile that it doesn't have to be 'dark' unless that's the look that you're going for.
Taupe
https://www.sherwin-williams.com/homeowners/color/find-and-explore-colors/paint-colors-by-family/SW7038-tony-taupe
While most people don't need help deciding to paint their home a simple color like taupe, it still remains popular for a reason. This color might have once been considered standard or drab, but today it offers a sense of neutrality with warmth that you can't find in a lot of greys and darker colors. If you use this color as a base, red or brown accents can help add a unique look to the finished product.
Charcoal Gray
While light grey is popular indoors, more and more people are choosing a dark grey for the exterior of their home. Grey offers a statement of sophistication and style, and while it is a little bit more formal than some colors, it can definitely increase the curb appeal and overall value of your home. Choose a dark charcoal with stark white trim for a strong contrast that makes a statement.
Olive Green
Once only popular in outdated kitchens, olive green is making a comeback. It has a number of different shade variations and possible names, but they all provide the same elegant, understated finish. When you choose an olive green with black or darker accents, you can create a natural-looking exterior, which is especially ideal in settings with lots of trees or shrubbery around, when you want your home to blend into its surroundings.
Forest Green
Again, we're going natural with blending by combining an even darker green with dark accents to create a unique look in any space. Make sure that you take the time to compare forest versus olive green, because it does get quite a bit darker. You'll need to compare trim colors, too, to find the perfect fit, but it is becoming more and more popular to choose deep, dark colors for a bold exterior statement.
Tan/Beige
Along with taupe, tan is a color that's been tossed to the wayside all too often. However, when it comes to exterior painting and siding, it's still one of the most popular choices on the market today. It offers neutrality and with a darker shade, it can hide dirt and debris better than a white or eggshell color might. These colors pair great with white trim, or even colored accents in reds, browns, and blues to create a bold statement with a pop of color.
Red
Red is bold and daring, and when you choose to paint the exterior of your home red, you need to choose the shade very carefully. We're not talking about candy apple red here. In fact, most exterior paints are more of a dark shade, along the lines of burgundy or maroon. This is nothing less than you'd expect, of course, given the ongoing trend of popularity in dark colors as of late.
Brown
More and more people are skipping right over tan, taupe, ecru, and every other light brown or beige shade and going straight to the bolder browns for their next exterior color project. Again, these colors are warm and inviting, and when paired with the right trim, they can make a big statement in any home. Consider chocolate browns to create a natural look that blends in with its surroundings. Lighter browns, such as coffee shades, are great with green accents or even something daring like a yellow or bright red trim.
Neutral Base/Bright Trim
Finally, we've got the popular bright color combo that a lot of homeowners love. The popular trend right now is to use neutral colors for the base of the home, such as a grey or beige tone. Then, you choose a bright, vibrant blue, red, or other shade to accent the neutral color and create a unique splash of color effect. Consider combining light greys with turquoise or browns with bright greens for something different.
While the dark on dark trend is growing, the pop of color is definitely a popular choice for a lot of homeowners. If you want something different without going too crazy with the base color of your home, this might be an option to consider.
How to Choose the Best Exterior Paint Color?
Check our detailed guide about How to Pick Your Paint Colours?
Choosing the right paint can be a challenging task. Of course, you can guarantee that if you pick anything on this list, you'll at least be on trend for 2020 residential painting. Other than that, it's about finding the color that fits your design tastes and creates the look that you want for your home. Make sure that you don't limit yourself out of fear. A lot of people worry about bold exterior colors, but right now they're in and they can make a big impression when it comes to curb appeal.
There are a lot of ways that you can sample paint colors on your home, but perhaps the easiest for exterior jobs is to take advantage of online paint sampling programs. These websites will allow you to upload a photo of your home's exterior and then choose various paint colors to see what your exact house would look like in a specific shade. It's really never been easier to find the perfect paint.
Of course, you have to remember that things might not turn out exactly like they look online. Therefore, you'll need to sample the paint on your house directly before you fully commit. Imagine buying all this paint in a beautiful blue-grey only to start painting and realize it actually looks terrible, even though it looked great in the virtual rendering. The Internet can help you get an idea of what will work, but you really have to try colors on before you make your final decision.
A Few Reminders
If you're planning to sell before you paint again, don't go too unusual with your paint job. You can definitely choose a bolder trend if that's what you like, but remember to choose something with good resale value. Take the time to look at popular colors for home buyers specifically to help you gain insight into what people want in their next home. That way, you can paint accordingly and if you decide not to sell, you'll still have a stylish new coat of paint that makes your home look great.
You should always paint the trim when you paint the siding. It doesn't make sense to update one and not the other, after all. Make sure that you choose cohesive colors, no matter what you decide, so that you don't have a color clash. One of the best ways to do this is to stick with complementary colors, or to choose one neutral color and one non-neutral. Whether you do the trim or the base of the home in the neutral is up to you, but you want to keep it relatively simple.
The Bottom Line
These are the colors to keep in mind if you want to stay on trend when you paint your home's exterior. Fortunately, there are a lot of different options out there that make it easy to create the perfect look for your home, no matter what you have in mind. If you're not entirely sure what you want, consult the pros to get their opinions on the perfect new color for your home, and let them do the work for the best results.